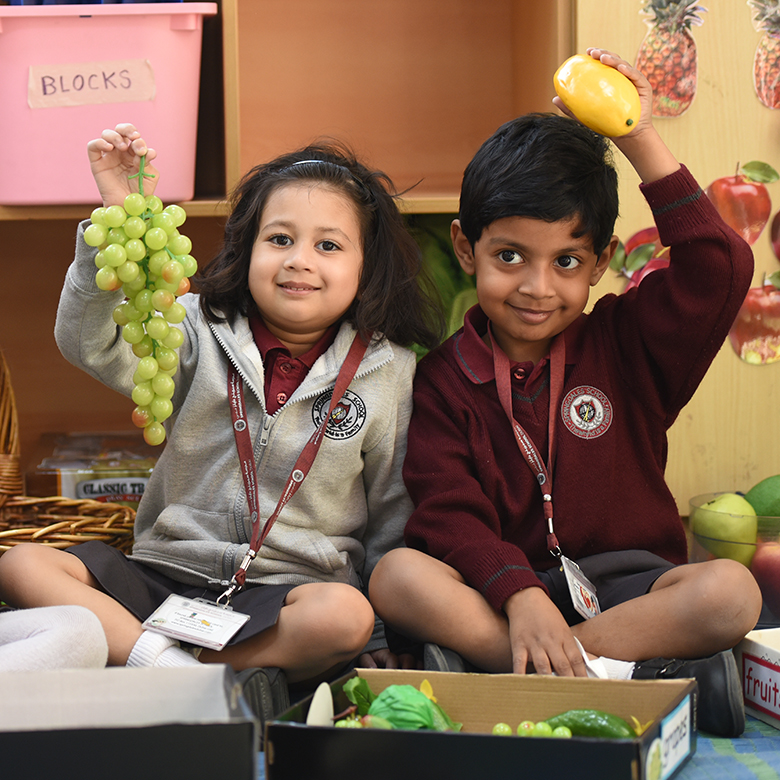 Foundation Stage (Kindergarten)
Pre KG to Grade 2
Foundation (Kindergarten) Stage 1, 2, and 3 nurture the cognitive and motor skills of tender minds through a warm caring, and stimulating atmosphere provided to encourage curiosity and development of motor and cognitive skills through a variety of creative, kinesthetic, and problem-solving activities.
Our curriculum is designed to enable children to develop a love for learning. Adopting the learning-through-play method, using a wide range of learning materials and activities, in both classroom and free-flow environments, young minds explore language and literacy, numeracy, discovering and understanding the world (science), physical development, creativity and performance, the customs of different countries and social skills through collaboration with each other. Emphasis on individual attention will help each child gain confidence in his/her abilities.
Through the exploration of language, numeracy, and the world around them, children develop confidence in communication, gross and fine motor skills, and interpersonal skills.
Music, Art and Craft, Physical Education, and Sports activities are a part of the curriculum with many opportunities for children to participate in a variety of fun-filled activities that include but are not limited to Sports Day, Annual Day, and Graduation Day, etc. Also story time, field trips, themed Assemblies, and Open House events provide opportunities for KG students to directly share their learning with the community.
Learning flows seamlessly at our OLA (Outdoor Learning Area) offering children opportunities for physical activity, freedom, movement, and promoting a sense of well-being. OLA allows children to make the most efficient use of resources and builds on interests and enthusiasm with a sense of wonder.
Our Foundation Stage Cookery lab integrates the seven areas of learning and supports children's problem-solving skills, nurtures their creativity, as well as providing rich opportunities for developing imagination, inventiveness, and resourcefulness. It also supports the development of healthy and active lifestyles
Resources and educational materials, toys and audio-visual facilities and in-class access to the internet at the direction of the teacher enhance the journey of exploration and learning while field trips enable widening of horizons outside of school.
Specialist staff support children in Arabic, Arts, Music, Dance and Swimming.
Continuous Assessment is used for providing on-going feedback to all the stakeholders as well as help the team of qualified teachers to redesign their plan in consultation with parents to ensure that each child meets targets. Our teaching staff are facilitators who create and use programmes with care and thoughtfulness to make learning a joyful experience for each child.
We offer the CBSE (Central Board of Secondary Education), Indian Curriculum.