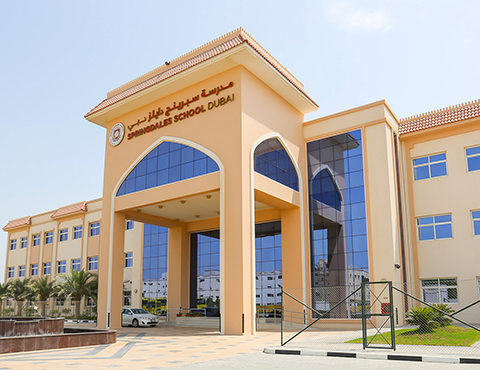 Welcome to Springdales School Dubai
---
Thank you for choosing Springdales School for nurturing your child's future. We welcome students from all corners of the world to gain from the curriculum pathways we offer and take advantage of or world class facilities, and challenge the dedicated teachers who want to walk the 'learning journey ' with them.
Springdales India has achieved phenomenal educational excellence and is consistently one of the most premium educational institutions in India.
Our academic year commences in April and ends in March. Springdales School admit students of all abilities, faiths and nationalities. The School offers a CBSE curriculum pathway towards higher education, but is also working towards approval to offer Cambridge (CIAE) IGCSE, AS/A2 and vocational pathways. The School adheres to UAE laws is regulated by the KHDA which also approves the School-Parent Contract which must be signed by all parents who are admitting their children to the school.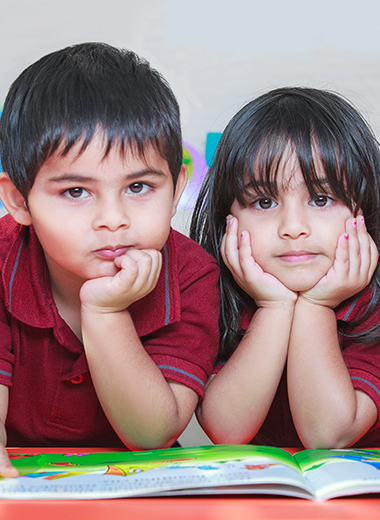 Registration
---
Registration for the Academic Year 2021-22
Age requirement and grade placement
From Pre-KG to Grade 1, grade level placement is determined by the Childs age by July 31st of that year. Please note that no exceptions can be made.
By 31st March:
Pre-Primary must be 3 years of age
KG I must be 4 years of age
KG II must be 5 years of age
Grade 1 must be 6 years of age
---
From Grade 2 and above, grade level depends on the curriculum child is migrating from.
Students transferring from 12 year system is according to the Transfer certificate.
Student's transfering from 13 years system please refer to KHDA Table Below.
---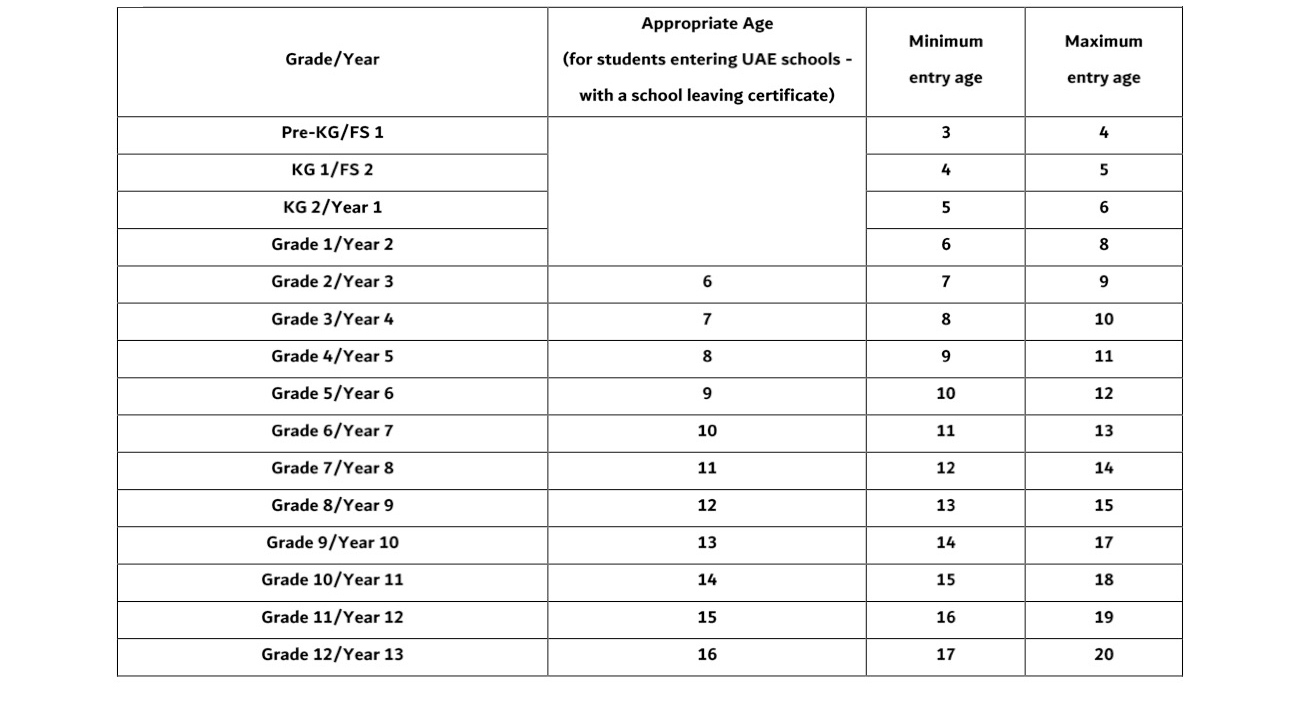 Admission Process
Please complete the Online Application/Registration Form. Once the form has been completed, you will receive an automated response confirming receipt of your application.
Once your application has been processed, you will be contacted by our admissions office and your child will be invited to the school for an assessment. Assessments are for placement purposes only and not to discriminate by ability.


Pre-Primary(KG) and KG 1 – Applicants will be invited to the school for a play-based assessment, to ensure that they meet our minimum requirements.
Students from KG 2 – Grade 2 will be assessed on language/literacy and numeracy standards appropriate to their exiting or number of years in full-time education.
Students from Grade 3 – above will be assessed on Grade appropriate English and Mathematics assessment.
A non-refundable Registration Fee of AED 550 must be paid prior to the assessment.
Curriculum
We offer the CBSE (Central Board of Secondary Education), Indian Curriculum.
The KG offers a modified EYFS (UK) curriculum with Indian and UAE cultural influences.
The Primary School also maps its curriculum against the UK National Curriculum but also prepares students for entry to the CBSE curriculum. The CBSE curriculum is developed throughout the Secondary School with subjects options chosen before entry into G11 for the CBSE 12 exams.
Students then choose their subjects in combinations that will give them the best opportunities to follow higher education courses in business and commerce, engineering, medicine, or the creative and performing arts after successfully completing their the CBSE 12 exams.
Alternative pathways into higher education globally is being pursued and the Springdales is seeking KHDA approval to offer IGCSE and AS/A2 levels and vocational programs to meet the needs of students seeking alternatives to a strictly academic pathway to higher education and/or employment.
Careers education advice begins in G8 to assist students and families to make informed decisions about the best possible combinations of subjects and courses. It will not be possible to mix pathways, although the teaching of some content may be shared. Assessment methods are different according to which pathway is selected.