Dubai Inclusive Education Policy Framework
Springdales School is an inclusive school. We welcome and respond to the diverse needs of all young people and their families. Our mission is to support each and every student to access and accomplish from the same curriculum, develop effective skills and to uphold their rights to an inclusive education centered on the statutory requirements laid out by: Dubai Inclusive Education Policy Framework and Law No. (2) of 2014 Concerning Protection of the Rights of Persons with Disabilities in the Emirate of Dubai.
We believe that we achieve more when we work together, and that collaboration is essential to deliver effective bespoke support to every student. The journey is championed by the Inclusion Support Team which comprises the Principal, Head of Inclusion, Senior Leader, Inclusion, Parent, Teacher Champion, Inclusion Student Champion, Inclusion Governor, Support Teachers and Learning Support Assistant, Student.
The school is committed to providing teaching and learning experiences that target each student's needs. We respond to the diverse learning needs of our students by identifying differentiated teaching and learning in all three levels of planning. Then implement a personalized action plan to target areas of priority and drive improvement. This ensures that every student is supported to access and participate in the curriculum leading to continuous improvement in student achievement. We value the contribution of parents who are vital to the progress of a student.
The Dubai inclusive education policy framework provides information about the procedures and standards necessary for the improvement of inclusive education in Dubai. The policy framework has been developed under the leadership of the Executive Council of Dubai through its focus on 'My community…a city for everyone ' initiative and applies to all education sectors across Dubai including early childhood services, special needs centres, primary, secondary and higher education providers. It also empowers education providers, regulatory authorities and governing bodies in Dubai to closely monitor progress and compliance.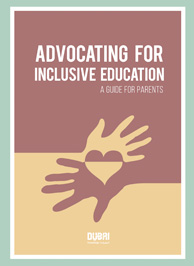 Advocating for Inclusive Education – A Guide For Parents