ABOUT SPRINGDALES SCHOOL DUBAI
Empowering Children to Learn & Grow
At Springdales we nurture your child's inquisitive nature with hands-on, world-class education adapted to their complex needs. From early childhood to secondary years, students learn to explore the world around them.
Fostering Deeper Learning Experiences
Our curricula is blend of Indian with International flavor where students can see the real-life application of what they learn. We are Quintessentially Indian, Innovatively International
Engaging Your Child's Learning Journey
All teachers are handpicked for their shared values and experience with international students. They teach discipline and guide students in their multi-directional development
Your Are Part of School Community
Become part of a tightly knit school community, voice your opinion and get the opportunity to make a difference at the school, and get more involved and invested in your child's development and educational experience
School Update
Back to School Post COVID
At Springdales, we have had a very successful and incident-free return to school. KHDA and the Public Health Protection Department have visited and been very happy with our processes and procedures to ensure students' and staff's safety. It makes such a difference for all of us seeing the smiling faces of the students and the joy they get from being back in the classroom. If parents are thinking about allowing their children back to school please contact the classroom teacher for further information.
Message from the Principal
---
"Dear Visitor,"


Springdales School has a well-established set of core values which celebrates diversity, global citizenship and inclusion that is embodied in the Springdales motto: "Vasudhaiva Kutumbakam" – "The World is a family".
We are a school that lives these values and motto every day and they permeate through everything that we do. We are a school that knows exactly 'what we stand for', the staff knows it, students know it and parents know it. This places us in a great position to provide exemplary education, leading global citizens to a pathway of success in their preferred career options and life choices.

.
65 Years Of Legacy
Meet Our Founder
Years
---
Springdales School is one of India's most distinguished private schools. Established in 1955 by veteran British educationist Mrs. Rajni Kumar, the school quickly grew from a small nursery to a full-fledged educational institution and made a distinct mark with its vibrancy and fresh approach.
Over the last 60 years, the school has earned the reputation for being a progressive institution that helps students build character through its values-based education. It has received national and international recognition for its high-level of academic excellence, innovative educational practices, holistic approach, and emphasis on performing arts, internationalism and humanitarian ethos.
---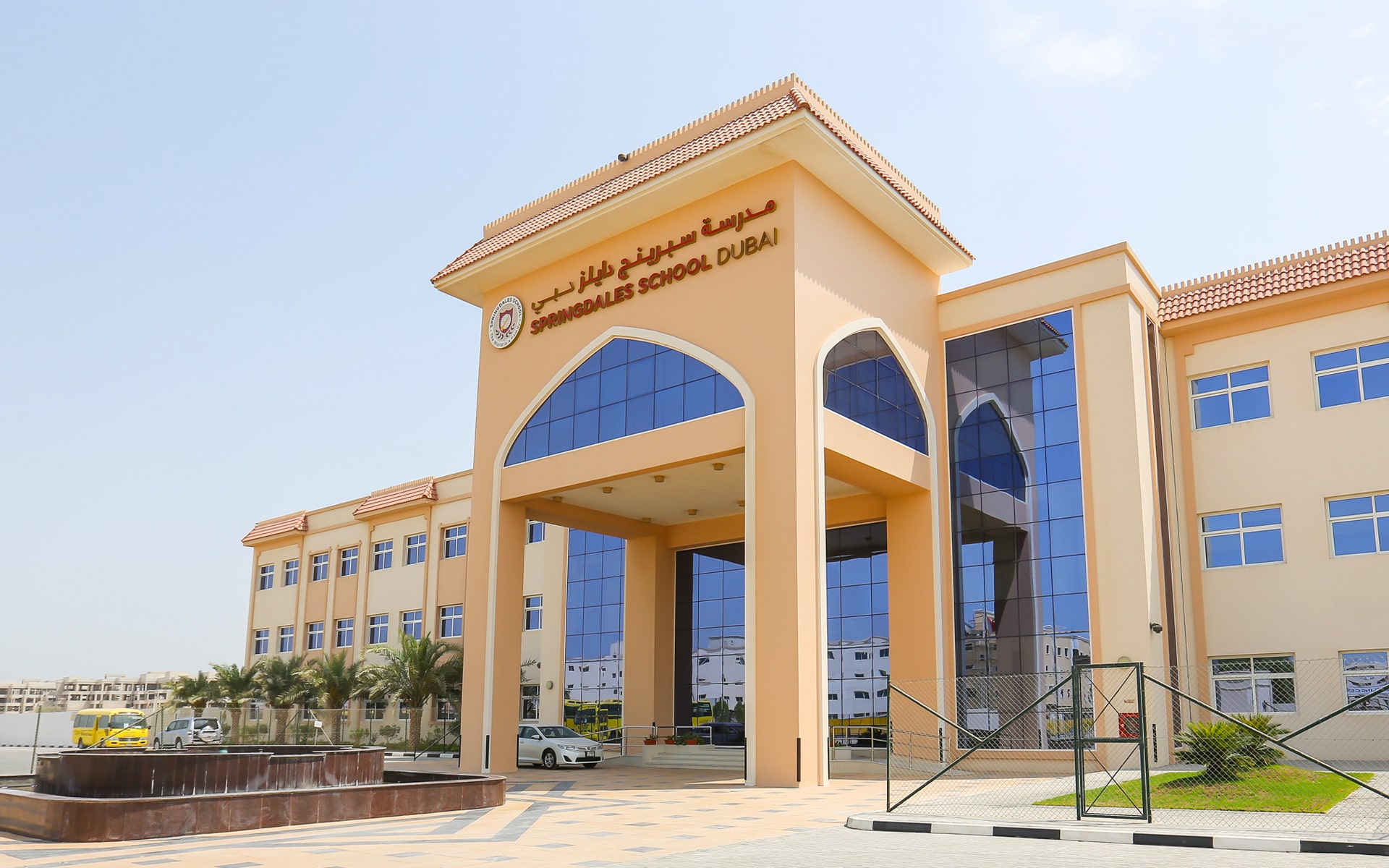 ABOUT THE SCHOOL
Since 2013 in Dubai
More than 65 years on, Springdales continues to lead from the front. It opened its first overseas school in Dubai in 2013 on a magnificent purpose-designed campus offering education from Pre-K to G12. The campus, based in Al Quoz 4, next to Jumeira University, has three classroom complexes, for KG, Primary and Secondary (Middle and High) Schools.

It also has flood-lit Track and Field facilities for Athletics, an Olympic indoor pool, bus parking and sheltered outdoor play areas. It also boasts dedicated science laboratories, campus-wide wifi, library / resource centre and indoor courts of racquet sports and basketball, a martial arts dojo and dance studios to include but a few of the world-class facilities that are available to the students and wider community.
---
Find Campus Latest News, Videos & Pictures on Campus and Connected Principals, a collection of blogs by Dr. Brian, Principal of the School.
October 6, 2020
In my time at Springdales, Dubai I have seen sixty-two graduates head across the globe to the universities of their choice as the next step to
[…]
October 6, 2020
The short-term and long-term implications of the COVID-19 virus on the job market and impact on job securities? Both locally and globally, unskilled and semi-skilled labour
[…]
Location
Springdales School Dubai
Al Quoz 4, Near Jumeirah University
P.O. Box 115930
Dubai, United Arab Emirates