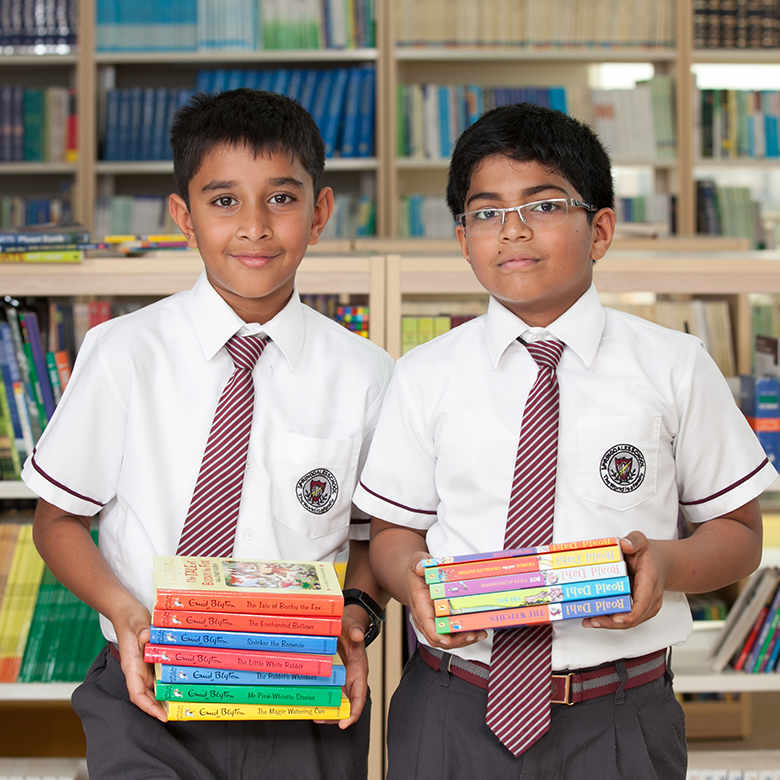 Preparatory Stage (Primary) (Grades 3 to 5)
We recognize that children at this level are individuals with their unique abilities and interests and also active, curious, experimental, imaginative, talkative and, above all, very frank. Our curriculum in these classes focuses on encouraging inquiry, exploration and inculcating confidence in key learning skills such as reading, writing, listening, speaking, information technology capability, problem-solving, observation and measurement.
Subjects such as English, Mathematics, Science and Social Studies, a 2nd language, and Computer Science are offered along with training in Physical Education, Computer Studies, Art & Craft and Music. Arabic and UAE Social Studies are mandatory from Grade I along with Islamic Education for Muslims and Value Education for all students."
The Primary School years encourage and motivate young minds to become self-confident, self-reliant and self-disciplined through a variety of curricular and co-curricular activities.
In addition to academics, exciting, fun-filled opportunities, activities and events encourage children to speak and perform at assemblies, concerts, drama productions, and thus gain confidence in their ability to communicate to a wider audience.
Celebrations such as Craft Day, World Environment Day, Healthy Food Week, Special Assemblies, UAE National Day etc. provide for extended learning opportunities that are enjoyable and meaningful whilst celebrations such as Mother's Day, Father's Day, Grandparent's Day etc. are unique events when parents and students spend quality time together.
Field trips reinforce learning along with exploratory classroom sessions where children collaborate, explore and learn with the teacher as a facilitator in the learning process that enable imbibing life skills, values, a strong sense of responsibility and ethics.
There are 2 terms in a year. Assessment is done through Periodic and Term Examinations and is reported formally to the parents. It is followed up with "next steps" and "targets", aiming for students, parents and the school to work as partners". The objective is to not just provide the students with a grade but to create a road map towards improvement while supporting each child in reaching his/her full potential in all areas of the curriculum along with acquiring the appropriate attitudes and skills which will support his/her education in the future years by a team of qualified teachers. Research project opportunities will provide for students to work at their own pace with teachers as facilitators in the learning path of the student and it will be a non-examinable element in all curriculum areas.
We offer the CBSE (Central Board of Secondary Education), Indian Curriculum.